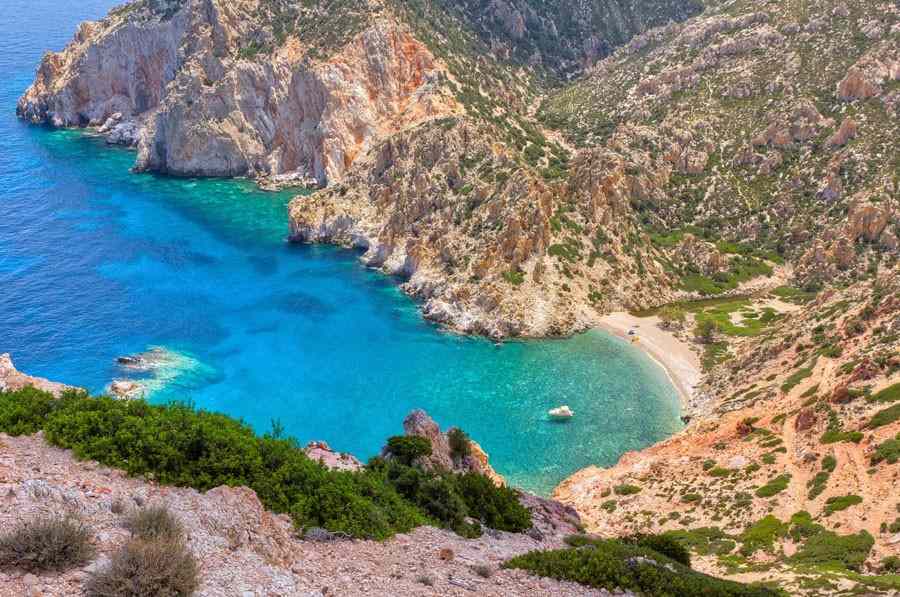 7 Days Nearby Islands Cruise
Overview
FREE Pick up & Drop off Service
Adventure
Couples
Couples / adults only
Full privacy
Islanders
Luxury
Photo tour
Real Sailing Experience
Romance
Sightseeing tour
Small groups
Special Occasions
Description
The itinerary of the 4 Day Nearby Islands Cruise by Renieris Santorini Sailing Center
Embark on a 4 day sailing cruise to Santorini and the nearby islands with Renieris Santorini Sailing Center and we will make sure that you will never forget a single moment of this experience. Take a first glimpse to the details of this great sailing experience. Before exploring any other Cycladic islands, it is well-worth taking a swim in the Sulfur Springs of the Volcano. Then it's off to Ios Island, where you will spend a peaceful, relaxing night at Magganari beach. Here you will wake up to crystal clear waters perfect for a morning swim, before we set off for the little fishermen's island of Iraklia. In Iraklia, you can witness the wreckage of a sunken plane from the Second World War.
Tranquillity is the word to describe the atmosphere of our next stop, the island of Schinoussa, before you find yourself swimming in a cave in Kato Koufonissi. This is not where you'll be spending the night however, as Pano Koufonissi will be the final stop for the day. You will wake up to its peaceful natural environment and will be able to explore its picturesque coves and turquoise waters. At the far eastern part of the Cyclades lies your next destination, with its most famous sight being the impressive Monastery of Hozoviotissa, constructed on the slopes of a rock with breath-taking view to the sea. This is the island of Amorgos. From here, we have one final stop before heading back to Santorini which is the beautiful beach of Papa on Ios Island. This trip is exactly what you need to relax and take in the beauty of the Cyclades. A truly unforgettable experience by Renieris Santorini Sailing Center!
Notes:
- As this cruise is private, you can add or remove stops according to your preferences, based on the weather and time limitations.
- The schedule is always subject to changes depending on weather conditions.
Points of interest
The 7 Days Sailing Nearby Islands Cruise by Renieris Santorini Sailing Center Points of Interest
What's Included
Transfers to and from the yacht
Captain & crew
Port Authority expenses
All taxes
Full insurance- No Security Deposit required for chartering our yachts
Breakfast
Light lunch (on "Santa Maria" S/Y)
Lunch or Dinner (on catamaran boats)
Snacks and fruit
Water, soft drinks, wine, beer
Snorkelling equipment
Fuel
What is not included:
Off board meals
Off board activities
Tips
Tour Highlights
Why you will love this cruise!
The S/Y "Santa Maria" is an extraordinary sailing yacht with all the extra facilities to make it feel like a luxurious hotel, from an ice maker to a water desalination system.
As for the Carpe Diem and the Margarita Catamarans, both are great choices to enjoy a week in the Aegean Sea.
The Captain of the "Santa Maria" and the catamarans knows this area like the back of his hand, which means that he will take you to all the hidden gems, all the spots not meant for the masses of tourists.
The Catamarans of our fleet are also available for this 7-day cruise.
The taste of the organic salads and fruit that grow in our own farms and the BBQ and seafood choices.
The delicious seafood that the Captain usually dives for himself and offers to his guests.
The authenticity and traditional Greek flavour of all the islands you will visit.
USEFUL INFO
Be sure to bring a camera. The crew will take care of your belongings while you swim.
Inform us in advance of any dietary preferences or allergies.
If you are taking the cruise in April-May or late September-October carrying a light jacket is advisable.
Don't forget to bring your sun lotion and a hat.
Choose dark coloured bathing suits if you are planning on swimming in the Sulfur Springs since the iron and sulfur can stain light-coloured materials.
The schedule is always subject to changes depending on weather conditions.
Your Best Choice
Renieris Santorini Sailing Center is the top choice for the best sailing experience in Santorini!
Let's discover what makes a sailing cruise with us such a memorable, delicious and fun experience:
We employ the most experienced captains and crews on the island since 1991.
We have a great fleet which includes motor yachts, catamarans and speed boats.
We serve on board high quality food made with the finest local ingredients.
Special menus (vegetarians, gluten free) are also available.
Fish dishes- both on private and on semi-private cruises.
Our vessels sail either from the Vlychada Marina or Ammoudi Bay.
We offer the safest and fastest transfers.
We offer great options and prices for private cruises.
Make a Request
For every question regarding our cruises, yachts, availability and our offers please do not hesitate to contact us. The staff of Renieris Santorini Sailing Center is at your disposal and ready to welcome you on board in one or more of our cruises! 
Please note: Fields marked with *, are required.